Register for one of our great free student outreach shows!
Make your reservations now and estimate your total of reservations needed. One month before the performance confirm your reservation with actual numbers needed.
Broadway Theatre League strives to maintain a level of excellence in everything we do, and none more so than with our Student Outreach Program. 
Our Outreach programming is specifically geared towards celebrating the young mind and bringing theatre to a younger audience that includes an educational component. These professional touring productions will take students and on an entertaining, educational and culturally diverse trip that is sure to please! We believe the theatre, and more specifically, live theatre can open up a child's mind to a world of performance, choreography, music, drama, and culture, possibly all at one time and in one sitting. We believe we can make a difference in a child's life and make learning fun.
Most of our Student Outreach Shows include free shows for Schools/Homeschool Groups during the school day and a free family performance in the evening! Learn about our upcoming Free Student Outreach shows below!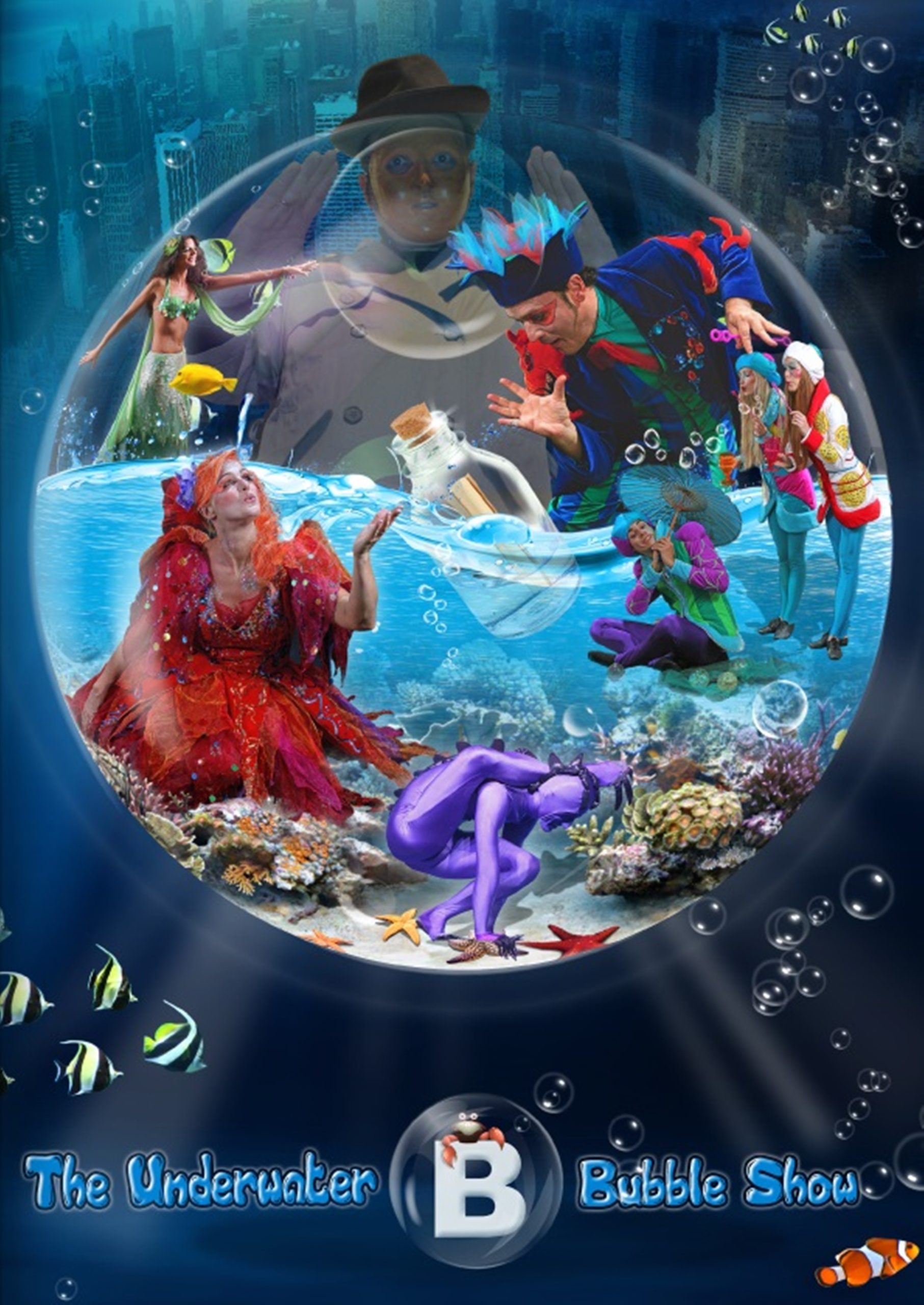 October 24, 2023
9:15AM & 12:30PM School Shows. Home school groups please sign up for the 12:30 showing.
School Show Reservations: Sign up by clicking this link 
7PM Free Community Show- reservations start on September 25, 2023  Sign up for the Free Community Show by clicking this link.
Show is free and will last 75 minutes.
Inspired by childhood standards like Alice in Wonderland, The Little Mermaid and Peter Pan, B-The Underwater Bubble Show is a modern fairy tale.
"Each classic tale represents a journey of a kid who grows up and learns something," explains co-creator and director Enrico Pezzoli. "We wanted a story about an adult character who discovers that he can still go back and enjoy life. We don't always need to grow up. Sometimes we need to step backwards for a bit and restart."
"Our main goal was to produce a show that could tour the world without any barriers, especially language," 
explains Pezzoli.  
"We involved many elements of theater that could work without speech, like mime, puppets, physical comedy and sand painting, while adding visual special effects. Even in parts of the world where the culture may be different from our own, the result is always the same, with everyone cheering and applauding."
Taking cues from Cirque du Soleil, the visually spectacular show incorporates the latest in stage technology. Lasers, low ground smoke and flying foam simulate waves and the underwater atmosphere.

February 2, 2024
9:30AM & 12:30PM School Shows – School Groups make reservations using this link. Home school groups please sign up for the 12:30 showing.
7pm Free Community Show reservations start on Jan. 2, 2024. Sign up for the Free Community Show by clicking this link. 
Show is free and will last 1 hour. Pre-K-5th
All the animals in the jungle know their own special dance, but Gerald the Giraffe can't seem to move without a clumsy step.  But with the help of a wise cricket, he finds his own song, and dances to the beat of his own drum! In this stage adaptation of the beloved children's book, with puppets, African rhythm, and lots of dancing, Gerald learns that his differences are what make him special.
Produced by the Bay Area Children's Theatre and the Rose Performing Arts.
How it works
Sign up – you will need to sign up your school group and select your preferred performance. Please note that the 12:30 performance is typically less crowded and we prefer homeschool students to sign up for this show. The 9:30 performance fills up quickly

School Visit – our Education Director, 

David Herriott

 will reach out to you to provide you with study guide materials as well as set up a school visit. He will visit your classroom to get your students ready to attend live theatre and learn more about the show and what to expect

Chaperones/ Ratio – we ask that you have a 10:1 student to adult ratio
Buses and Parking – David Herriott will send you detailed bus drop off information. It sometimes varies slightly per show based on other events happening in the building. Typically, buses will drop students off and pick them up in front of the Concert Hall.
What to expect when you arrive
When your group arrives, you will be greeted by BTL staff and ushers that will direct your group into the Concert Hall area. Groups are seated first come, first served, starting at the stage and working back. We will use the balcony after the floor area is full. We ask that students stay in line and remain with their groups, and use the restroom with a chaperone. 
Please visit our Theatre Etiquette page about attending live theatre if you'd like to know more about Theatre Etiquette.
After the show is over, we ask that all groups remain in their seats and listen to further instructions from the stage area. Groups will be released in a designated direction/ doorway based on bus pickup location.
At BTL we do our very best to keep groups as organized as possible while keeping all students safe while having a great time at the theatre!
For any additional questions, please contact our Education and Outreach Director, David Herriott at [email protected] OR 706-589-2507.